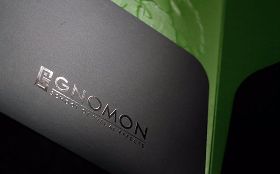 Leave a Lasting Impression!
In today's highly-competitive business environment, distinctly unique marketing materials will make your business stand apart from your competitors and capture the interest of current customers and prospects. Presentation Folders offer a great opportunity to demonstrate your company's professionalism, quality, creative ability and investment in your customers.
Choose an imprint method [Ink, Embossed, Foil Stamped] and have your company name, logo, tagline or other personalized information stand out.
Standard folders come in 9"x12", BUT think ahead about what you plan on putting inside of the folder (some marketing materials might require a custom size). Additionally, business card slits and imprinted pockets can make your presentation folders just as eye-catching on the inside as your front cover!
Our INKredible, highly-qualified team of Designers will work with you to turn your vision into a reality! Call today & start your Presentation Folder Marketing Campaign!

Common Configurations (Other Configurations Available)
Size: 9x12
Paper Type: Large variety of gloss, matte & other premium papers
Paper Color: Large variety of colors
Ink Colors: Full color / spot colors / B/W
Pockets: Both sides / left only / right only
Business Card Slits: Both sides / left only / right only
Option: Foil stamping / Embossing