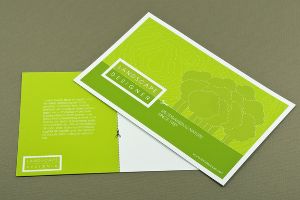 Drive New Business With
Eye-Catching Postcards!
Serving throughout Houston and beyond, we can assist you with your postcard campaign that will build brand awareness and help you stay in front of your audience!
The humble postcards can be one of your most powerful yet inexpensive marketing weapons! Postcards can drive activity to your website, generate new sales leads and produce growth in any business activity you want. It's almost impossible to throw postcards away without looking at their key message!
Their Most Distinctive Advantage...
[They Don't Hide Inside An Envelope].
Read these tips to get the most from your next postcard marketing campaign:
• Target your AUDIENCE
Zoom in on who you are targeting to get the best return on your campaign. Once you've identified whoyou are trying to reach, then you're ready to plan your design and message!
• Grab ATTENTION
Use short, bold headlines and high-quality photos or other striking images and colors that will createinterest and leave a lasting first impression.
• Oversized for IMPACT
Stand out in the mail with an oversized card. A large size will also give you more space to includephotos, coupons or even a map to your location(s).
• Include an OFFER or COUPON
You have to give readers a reason to respond NOW or many will put your postcard aside for later.Coupons and special offers such as a discounted price, a special bonus or some other benefit to theirresponse by a specific deadline are excellent methods to stimulate fast action from your prospects.
• Double the sides, double the EXPOSURE
Make your statement bold and loud to motivate customers to turn your postcard over to read the rest of your pitch!
• Use an INDICIA to save on postage costs
A postal indicia takes the place of a stamp and is generally printed directly on the mail piece. Itrequires a permit and is used for mail sent out in bulk, such as 200 or 500 pieces at a time..
Common Configurations (Other Configurations Available)
Size:  4.25x5.5 - 4x6 - 5.5x8.5 - 6x9 - 6x11
Paper:  100# Uncoated Cover - 100# Gloss Cover - 100# Matte Cover Ink Colors: BW - Individual Spot Colors - Full Color
Mailing Option:  We provide complete mailing services
Mailing Lists:  We provide mailing lists based on your demographic criteria
Variable Data Option:  Customized with variable information and images