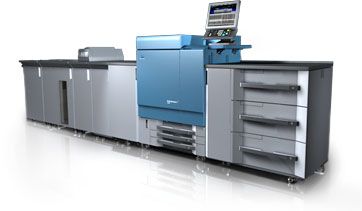 Technology is always advancing and keeping up with it takes a dedicated effort. We are continually investing in equipment and technologies that enable us to offer you the latest in products and services. For us, it's an investment in the future--yours and ours.
We have printing equipment that is the only one in the industry with 2400 x 2400 dpi and 10-bit RIP, achieving a new standard of image quality with detail, crispness, and clarity; delivering four times more pixels than other presses while still printing at blazing fast speeds.
We realize that, to most people, the make and model of equipment used doesn't matter. What ultimately matters is the final result. And that's the way it should be. The only thing you really need to know is that we put state-of-the-art technology to work for you and your business.
Certifications
FCC Class A Compliant (US)
ICES Class A Compliant (Canada)
CSA Listed (UL 60950-1, Second Edition)
CB Certified (IEC 60950-1, Second Edition)
ENERGY STAR ®
Environmental Choice
CE Marked
IPv6
EPEAT Silve