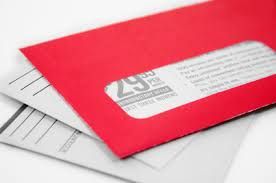 Give your customers a reason to want to receive mail with a professionally designed postcard or direct mail piece from Minuteman Press Downtown.  We print a variety of direct mail pieces such as postcards, brochures, newsletters, catalogs and letters. We've been helping businesses throughout Houston reach their target audience and get results. Direct mail pieces are an inexpensive and effective way to generate awareness or advertise a special promotion. The staff of experts at Minuteman Press Downtown have created custom postcards for businesses throughout Harris and surrounding counties and we can create a custom postcard for you too! Simply provide us with your mailing list and we will take care of the rest. If you do not have a mailing list, give us your target demographic criteria and we will generate a list for you. We can mail your pieces as self contained, secured with tabs, or insert them into envelopes which we pre-print and address.  
Our mailing services include:

Processing mailing lists with CASS certified software
Removing invalid addresses
Removing duplicate addresses
Presorting for lowest postage rate
Folding
Tabbing self mailers, or
Inserting into envelopes which we print and address
Delivering to USPS
Some of our most popular direct mailers include:
Every Door Direct Mail
Pressure Seal Mailers
Postcards
Self Mailers
Envelope Mailers
Business Direct Mail
Custom Direct Mail
Invitation Direct Mail
Nonprofit Direct Mail
Promotional Direct Mail
And more!