Click below to view or add to our testimonials:
---
A sample of what people are saying...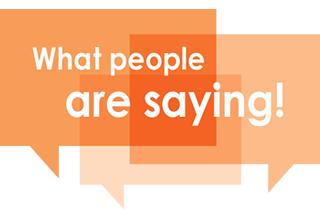 Wow - that was lightning fast! On my way there.
Thank you so much for all of your efforts.  All of our print items looked great and your turn around time was a miracle! I can't explain how grateful I am that we chose you as our printer for the show.
George, Thank you so much for all your hard work.  The Bakery Books look amazing.  You guys have a great day and no worries, we will keep you guys in mind for future projects.
Thank you so much for the posters you did for us.  They look great!
Kathleen, everything turned out GREAT!  Thank you so much.  I am very pleased with everything.
I received the business cards - we are very happy with them - thank you! I will get back to you later today regarding another order.
Mario, when I opened the file, the first thing I saw was the best looking brochure ever.  I appreciate all of your efforts and a job well done. Thank you so much. Your finishing touches has made all of the difference in the final proof.
Thank you for all your help.  Everything looks good!
The check turned out AWESOME!!! You guys are the best!!!
Thanks again for the quick turnaround!! The brochures look GREAT! We will definitely be using your services again in the future!
We had a deadline. We had a budget. We got a great deal, delivered on-time, under budget and exceeded expectations. We had a typo. We got a great deal (again), still met our deadline totally exceeded our expectations. Definitely a repeat customer. Definitely highly recommend Minuteman Press Downtown. Thank you, Eric, for all of your help!
Very quick.  Good prices.  Plus, I got a sweet quote on business cards.  I've been there twice within the past two weeks, so I think that makes me at least a "Yelp" regular.
I have been very pleased with the service provided and the pricing.  My daughter designed her own menu's, rehersal dinner invitations, programs and welcome bag inserts for her wedding and the staff was wonderful to work with and was considerbly more cost effective than purchasing them on the internet.
We love working with Minuteman Press in Midtown.  Kathleen and George are very professional and detailed.  They take the time to understand exactly what you want and print to satisfaction. We printed our wedding menus and thank you cards.  Prior to finding Minuteman Press, we used 2 other printing services in downtown and were disappointed with their customer service, price, and quality. Minuteman is a great place for all your printing needs. They are very reasonably priced and the quality is great!
Hello, My name is Michael Weathersby, owner of McWayne Productions, an upstart located in houston tx.On my mission to find quality affordable presentation folders for my business, I meet with at least 8 or 9 companies, who could not produce my small order of 25 copies, without charging three times the price, for such a small quantity.But when i happened upon minuteman press,they not only advised me of new products and affordable salutions, they finished the project in half the time promised by most companies and the quality, was just simply beautiful! Kathleen and George, Great Work! Thank You! Look Foward To Working With You Again!
Great people to work with, georges customer service is amazing. great invitations george has my business
Awesome people helped me out with printing out Texans tickets!
Kathleen & George are absolutely amazing to work with. The turnaround time for a quote is so quick and consistent that I'm always ready for the quote to pop up in my inbox at just the right time. The print quality is on par with all other printers I have worked with and my brochures and business cards have always come back gorgeous. I would definitely suggest giving them a try if you haven't already.
More than I expected!!!! George and Kathleen are wonderful people to work with! The process time for our items was quick and the results were AWESOME!! We had a big presentation and had so many great compliments of our presentation folders and the information sheets! Thank you guys for your hard work, we will be calling you again soon!